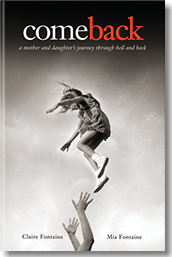 An unflinching true account of a teenage girl's dizzying, downward spiral and a mother's desperate and ultimately successful attempts to bring her back. Riveting, lively and often humorous, Come Back is a truly magical tale of triumph over adversity and of the hero that lies within each of us.
How does an honor student at one of Los Angeles' finest prep schools – a bright, beautiful girl from a loving home – trade school uniforms and afternoons at the beach for drugs and danger in rural Indiana? How does her devoted mother emerge from the
shock of finding that her daughter has not only disappeared but had been living a secret life for more than a year?
Mother and daughter tell their parallel stories in gripping and provocative first-person accounts. Claire Fontaine's story is a parent's worst nightmare: having to save three-year-old Mia first from an abusive father, then a decade later from herself; dealing with Mia's manipulative, drug-fueled behavior and repeated disappearances.
Claire's search for Mia was brutal for both mother and daughter, a dizzying series of dead ends, incredible coincidences and, at times, miracles - across three states. Desperate to save Mia, Claire ultimately forced her only child into a harsh-but-loving boot camp school in Eastern Europe, later in Montana.
Mia's story details her precarious refuge in the abyss of drug addicts, the painful childhood trauma that caused her near self-destruction, and her remarkable, if controversial, process of healing. The environment at Mia's school was alien, the rules extreme.
But for an extreme kid, extreme measures worked and Mia overcame addiction, depression, and self-hatred to emerge a strong and positive young woman who in three years went from the back of a van in rural Indiana to one of our nation's most prestigious universities.
Parents had to go through their own "boot camp" and Claire relates her own often painful process of self-examination with unsparing honesty and humor. What both women learned on their journey changed them forever, empowering them to transform their once-shattered relationship and their destinies.
Alternately heart-wrenching and hilarious, Come Back is a powerful portrayal of the primal bond between mother and daughter that will resonate with readers long after they've put it down.
"...it takes great tenacity to revisit experiences like the ones
described in this book... draws the reader close to their
experiences, so near at times I felt as if I too, were
imprisoned... Come Back is a testament to the power
of the love between a mother and daughter."
​

"We strongly recommend this
powerful mother-daughter memoir...
Intense, shocking, and ultimately triumphant..."
— Barnes & Noble
B&N's Favorite New Biography
"A nightmarish saga of a teenage runaway in L.A. ends
triumphantly... Mia's desperate diary entries appear between
Claire's lively, angry, sarcastic narrative, allowing mother and
daughter to maintain a heart-wrenching, honest dialogue."
— Publishers Weekly
...impossible to put down and walk away from, which I tried
to do a few times but couldn't. The writing is honest, raw,
haunting, and beautiful...
— Ree Drummond
I don't think I'm the only reader who --- stops reading a book
about Mia and Claire and starts reading one that's much more
personal. There are no spectators here...
To say there's a happy ending of this joint memoir is wrong.
There's a happy beginning. When you get to the end,
you'll want to cheer.
Jesse Kornbluth
HeadButler.com, co-founder of Bookreporter.com,
former Editorial Director AOL
"Come Back is a powerful and moving story of two brave
women who struggled through darkness into the light.
Beautifully written and inspiring, it speaks compellingly to
women of all ages. This is an extremely important book."
— Susan Forward, Ph.D.
author of Toxic Parents and Men Who Hate Women and
The Women Who Love Them
Once I started reading, I could not put the book down...
an amazing testament to a private kind of heroism undertaken by both Claire and Mia; namely, the pain-staking
work of defining one's own life's story, assuming
accountability for one's choices, and the
liberation that results...
Come Back is an intense experience that will change you
forever...you won't want to put it down. It is a gripping,
brilliant, and inspiring true story... You definitely don't want to miss it.
Janice Croze
Only once in a while do I come across a book that engages,
enrages and inspires me in the way that Come Back has. This
kind of writing talent is rare...In the way that Mia ultimately
finds her way back, many life lessons are learned from this
mere child...You quickly find yourself thanking Mia for your
own self-reflections...
Jessica Carlson