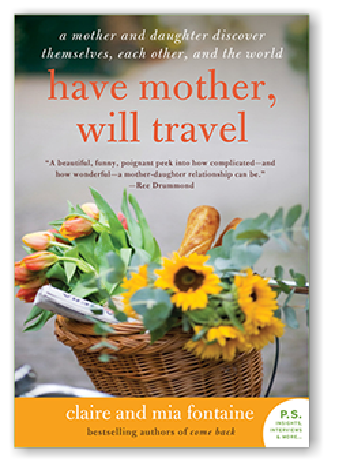 Join us on an enchanting, unique, and often hilarious journey to exotic places around the world (half madcap Amazing Race through 12 countries, half lazy, lavender-filled South France.) Just as they did with their national bestseller, Come Back: A Mother and Daughter's Journey Through Hell and Back, readers are laughing, crying and gleaning lessons for their own lives. Come along on a remarkable, life-changing adventure as we gain new insights about each other, mothers and daughters globally, and how a woman of any age can live a more intentional, authentic and meaningful life.
"...it takes great tenacity to
revisit experiences like the
ones described in this book...
Come Back is a testament to
the power of the love between
a mother and daughter."
​


"If you like "Eat Pray Love" then check out
Have Mother, Will Travel." Read more here.

— National Geographic Traveler
"What a beautiful, funny, poignant, and oh-so-representative peek into how complicated—and how wonderful—a mother-daughter relationship can be."
— Ree Drummond
author of The Pioneer Woman Cooks
thepioneerwoman.com
USA TODAY A New and Noteworthy Selection
Contact us
to speak at
your club.